Powered by Office Graph (a database that collects information on user activity and identity), Microsoft Delve learns more about you and your daily activities each and every day. From Microsoft Exchange to OneDrive, even Documents shared or viewed on SharePoint, Delve gives you information based on the work you do, and whom you do it with. I like to think of it as the ultimate Microsoft Flipboard/Dashboard hybrid for business. No more jumping from platform to platform or screen to screen. Just start flipping and get to work!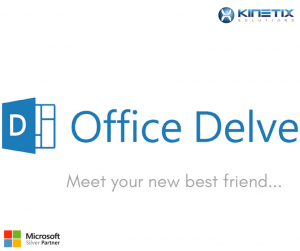 The main thing I really enjoy about Microsoft Delve is that the platform is always learning. Your social media presence, emails with co-workers, it doesn't matter – Delve loves to learn. The word "annoying" is an understatement when you're newsfeed or Inbox is bombarded with irrelevant content to your life, especially work-life.  With a combination of learning from search, social networking/engagement, and machine learning, Delve is able to bring information that is valuable. For companies that commonly take on tasks or projects as a team or group can absolutely kick some butt with Microsoft Delve. Exchanging or accessing Word Documents or Excel files on SharePoint is just a flip or two away.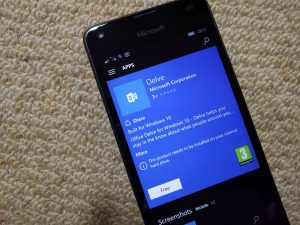 Productivity has always been the main priority for Microsoft. The more efficient our lives can be, the happier Microsoft is. Recently, Microsoft CEO, Satya Nadella, announced the Microsoft Delve app would be pulled from the Apple and Google Play store.
Delve was first introduced in 2014, shortly after Nadella was brought on as CEO of Microsoft. The main objective of the platform was to help users find the information they were looking for practically automatically. The removal of the app comes with surprise to many. Afterall, Satya Nadella's main focus was one thing: productivity.
Moving forward, Microsoft has turned their main focus to the Windows Taskbar. Introduced in Windows 95. Man, I'm old… the taskbar has been giving us a helping hand for decades now. That's right, decades. Microsoft wants better. More efficiency. Less wasted time and smarter working environments. The second week of December 2017 was a big week for the Windows Taskbar.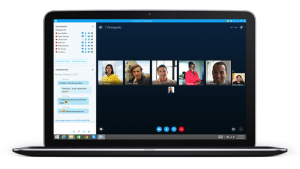 Some of the updates included pinning a contact to the Taskbar. Taking this one step further, the update allows you to call that certain contact on Skype from the Taskbar. Putting together the power of intelligent search and discovery to your benefit has always been the primary objective. Nothing has changed that.
A huge benefit I GREATLY appreciate is the fact that it delivers you prime-time, relevant content, right on a shiny platter. For someone that handles your company's Social Media Marketing or Content Marketing, can I get an amen? No more digging for relevant content that has been retweeted and used repeatedly across platforms. Delve delivers relevant content based on what you're doing and who you're collaborating with. It's excellent.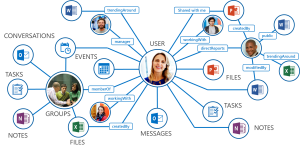 As I mentioned above, Delve is powered by Microsoft Graph, which uses sophisticated machine learning techniques to map the relationships between people, content, and activity that occurs across Office 365. Microsoft Office Graph currently incorporates content and signals from email, OneDrive for Business, SharePoint Online and Yammer. Over the next few months and into the Spring/Summer, Delve will continue to integrate signals and content sources, such as email attachments, OneNote and Lync.
For over a decade Kinetix Solutions has been a leading provider of IT Managed Services, Business Intelligence, and Custom Development solutions. Local support teams paired with a 24 X 7 Support Center provide customers a seamless and cost-effective IT solution. This allows companies to focus on their business knowing that their IT infrastructure will be up and running and they will always have access to the latest innovative technologies. Contact Kinetix Solutions via the web at www.kinetixsolutions.com or phone at 855-4-TEK-NOW (855-483-5669) option 2.