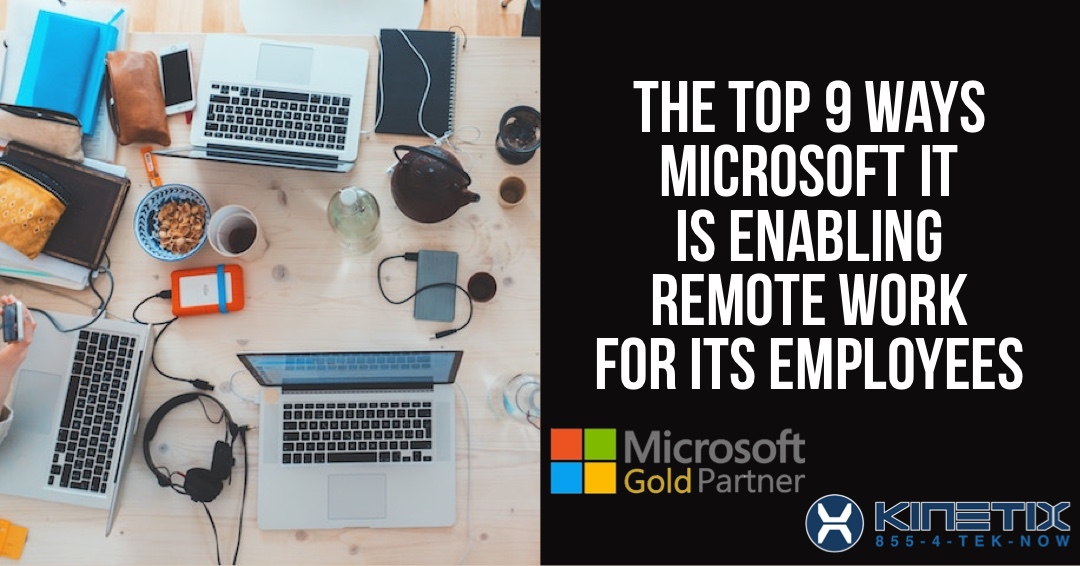 It is crucial that every IT leader needs to identify the priorities to instill productivity from anywhere across a company's workforce. Microsoft understands this and wants to assist. With that, below is a detailed list of the top 8 ways in which Microsoft is enabling effective and constructive remote work.
USER IDENTITY AND ACCESS: It all begins with managing identities. Microsoft has a hybrid environment that assists both of us to retain and expand existing systems while effectively using a cloud-based control plane to enable employees to work more productively and securely. Regardless of whether or not the individual is an employee, partner, or supplier, every user who requires access to the corporate network receives a primary account synced to Azure Active Directory (Azure AD).

MULTI-FACTOR AUTHENTICATION (MFA): MFA is mandatory in order to access any corporate resources at Microsoft. When an individual  connects remotely to Microsoft's domain using their Microsoft work credentials on a device that is managed by Microsoft, MFA is almost clear. With this, Microsoft provides three authentication methods: certificate-backed virtual and physical smart cards, Windows Hello for Business (with PIN or biometric sign-in), and Azure Multi-factor Authentication.

MANAGING DEVICES: Microsoft manages an extensive range of devices, such as Windows, Mac, Linux, iOS, and Android. Like many of us, Microsoft is in the process of making the transition to a fully cloud-based management system. As Microsoft creates this change, they are effectively using a co-management system approach with  Microsoft Endpoint Manager (MEM). MEM integrates Microsoft Intune and Configuration Manager into a single console where you can manage all your endpoints and apps and take action to ensure they are secure and reliable. With the current state of our country and more employees working remotely and across devices, due to the worldwide COVID-19 pandemic, it's crucial to support bring-your-own-device (BYOD) scenarios. Additionally Microsoft provides a self-service enrollment process so users can quickly and easily join Azure AD and enroll in MEM to access company resources. Once enrolled, MEM then applies appropriate policies, for example, to ensure that a device is encrypted with a strong password and has certificates for access to things like Virtual Private Networks (VPN) and WiFi. MEM can also ensure that devices are adhering to policy by checking-in the device's health compliance status to Azure AD as it processes the user's authentication.

PRODUCTIVITY APPLICATIONS: The platform and foundation in which Microsoft has in place has created a spike in driving employees to work in the cloud. Microsoft 365 enables users to access resources and share files with Office apps across the web, mobile, and desktop, storing their content in the cloud by default. Outlook mobile, Microsoft Teams, and OneDrive are deployed on all of our corporate devices, so people can access their emails, calendars, and files within File Explorer on Windows, Finder on Mac, and Office Apps on their mobile devices from anywhere in the world. This has given employees the ability to have an "in office" feel while working remotely. Microsoft has made it easy for users to save their files to OneDrive the same way they traditionally saved files to their C: drive; this has been the leading key to getting transferring to the cloud. Microsoft users now have the ability to do real-time coauthoring and commenting in documents in the cloud, which has proved extremely useful for a distributed workforce.

MEETINGS AND COLLABORATION: Microsoft's employees use Teams daily for chat, meetings, calls, and collaboration. Now that our country finds themselves working remotely, many have been able to stay productive because they are accustomed to a digital workspace. With each Microsoft meeting now being a Teams meeting, often with video. Microsoft is implementing features such as background blur to block out naughty kids, and barking dogs. As Microsoft has rallied to assist their customers to prepare for effective remote work, they've found that the ability to record meetings has become essential.

ACCESS TO LINE OF BUSINESS (LOB) APPLICATIONS: Microsoft has successfully transferred most of their legacy applications to the cloud. But even with most applications accessible in the cloud, some still require VPN. With this, Microsoft is in the process of rolling out Windows Virtual Desktop and scaling up this offer to support the devices that their developers want to use.

SERVICE MONITORING: With the increased load and usage from so many people working remotely, service monitoring has proven crucial to ensuring everything is operating smoothly. Microsoft carefully monitors application and network performance, they've also built product telemetry monitoring into every solution so that they can check reporting for user satisfaction metrics and changes to service behavior.

CULTURE AND CHANGE MANAGEMENT: Remote work has the ability to bring forward challenges with maintaining a healthy work dynamic and managing culture change. Modern social and engagement platforms can help make sure messages are heard, leadership is visible, and best practices are shared. Within Microsoft, Satya Nadella and other executives connect with the organization using live events and Yammer. The Microsoft team recently held an 18-hour global live event to drive employee connections, engagement, and learning.