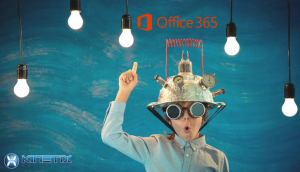 The world we live in today demands accessibility. Anytime, anywhere. Microsoft Office 365 gives you this and so much more. A reliable and efficient product, that allows you to knock out all of the demands of the Business world in one place. There is one problem. The majority of businesses are not maximizing the full range of capabilities of Microsoft Office 365. So, what is all the fuss about Microsoft Office 365? Office 365 is a web-based service (subscription) that gives you access, anywhere and anytime, from Microsoft Tools/Applications, including Microsoft Word, Excel, Outlook, Publisher, Access, Powerpoint, and Skype for Business to name a few. Adopting a new product or service can be scary, I get that. However, Microsoft Office 365 will help guide you step-by-step the entire way. Here is a great guide to helping you get started!
DELVE
Team or group projects are managed best when all members have access at all times. Similar to a Slack platform, Microsoft Delve allows you to see and access what people are working on (when given permission). Especially from a Team Lead or Management position, this allows you to check up on the status of certain employees, and where they stand in their work. Access recent documents of your own, as well as those around you. Add favorites if you are constantly working with the same individuals at the office. There is no "I" in team people, even Delve knows that.
AZURE
Don't just use the Azure feature of Microsoft Office 365, save money in the process. One of the main advantages of a hybrid-cloud approach is that it saves you money not only today and tomorrow but long term as well. Do your homework. Not all Azxure Regions will have the same pricing for the same resources. Granted, it is probably best provisioning your Virtual Machines and other resources within the closest Azure Region to your Target Audience/Customers, but you might find the pricing to be better elsewhere.
SKYPE FOR BUSINESS
Video calling has become more and more of the norm in our everyday lives, both personal and business. Skype for Business takes this to another level. What if all of the listeners on the call are unable to understand English? Spanish? That could be a problem. Skype Meeting Broadcast allows companies to host and broadcast meetings to a large audience, no matter the language barrier. Audiences are able to choose to have the transcript translated into English, Spanish, Simplified Chines, and German. With Skype for Business, you have two options: mobile or desktop, each with their own advantages. However, just having Skype open on your phone, computer, or browser will allow you to see chat titles reflecting the document's/presentation/s title. Thus, giving you the capability to dive right in!
DATA IS KING
Uh-oh. The "D" word. All companies know they have Data, but they probably don't know how to maximize it's potential. Every office usually has one Microsoft Excel Wizard that thinks they know what they're seeing and/or analyzing, but what if they're not? A new addition to Microsoft Excel is a feature that takes the rows of information you have entered into a spreadsheet and turns them to more a visual representation. Whether a state or even a country representation, this allows you to convert everything into images based on the information provided. Power Map can be found under the Insert/Map tab in your Microsoft Excel document. Pictures can say a thousand words. Microsoft agrees.
TELL ME WHAT YOU WANT TO DO
Imagine Siri for Microsoft Office 365. Just simply type in you're question or action needed and suggestions will pop up based on your question/suggestion. Even help or other information on a certain topic. Simply ask, "get help on…" Inserting pictures, a chart from Excel, a slide from Powerpoint. If you have ANY questions, just ask!
OFFICE LENSE
Being forced to walk and use the scanning machine is such a bummer, am I right? Now, Office Lense transforms your phone into a portable scanner. Just snap and go! Whether a receipt for expenses or even an important contract, Lense quickly converts all snaps into a PDF file, automatically sent to your One Drive folder. On top of that, it's no secret the handwriting on the whiteboard from yesterday's meeting was no calligraphy. Microsoft Lense takes nearly ineligible content and enhances the image, helping you see whats important to you. No more binders of paper, or meaningless notes.
NO MORE MISTAKES
We've all done it. Sending an email with no attachment. It happens. But, not so fast. Microsoft Officer 365 is now equipped with MailTips. This intelligent AI will warn or notify you prior to sending any message if it has detected something looks a little fishy. Sending one proposal to a company intended for another could be bad news bears. Microsoft understands human error is still relevant, but they're working on it. As you may or may not know, Microsoft continuously updates and adds new features to all of their products. With an authenticated Microsoft Office 365 account and subscription, you will never miss an important update or be behind in the game.
Try our 30-Day FREE Trial today!
For over a decade Kinetix Solutions has been a leading provider of IT Managed Services, Business Intelligence, and Custom Development solutions. Local support teams paired with a 24 X 7 Support Center provide customers a seamless and cost-effective IT solution. This allows companies to focus on their business knowing that their IT infrastructure will be up and running and they will always have access to the latest innovative technologies. Contact Kinetix Solutions via the web at www.kinetixsolutions.com or phone at 855-4-TEK-NOW (855-483-5669) option 2.