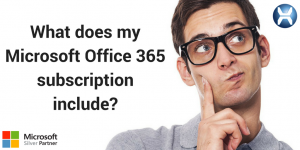 Microsoft always seems to be one step ahead of the game. Seeing gaps or missing components of efficiency in the workplace is something Microsoft has always had an eye for. Office 365 combines a suite of outstanding services all under one umbrella. There is an immediate benefit and upside to this. The capital expenses tossed out over the year will be cut down right from the jump. Simply maintaining your business, vehicles, even equipment, is all minimized. While still providing the exact same services (and better) as most on-site solution providers. Anticipating the rise of cloud solutions, Microsoft has created an affordable, cost-effective product to satisfy the growing demands of SME's from a cost and flexibility standpoint.  Let me take a minute to highlight all that is included in your Microsoft Office 365 subscription.

This next fellow you'll want to get a custom to pretty quick. Even sugar him up a bit if you must. Meet your new best friend, Microsoft Delve. Not only does he learn more from you the more you use the platform, Delve is the ultimate business dashboard. From Microsoft Exchange to OneDrive, even Documents shared or viewed on SharePoint, Delve gives you information based on the work you do, and whom you do it with. I like to think of it as the ultimate Microsoft Flipboard/Dashboard hybrid for business. No more jumping from platform to platform or screen to screen. Just start flipping and get to work! I told you he was a pretty cool guy.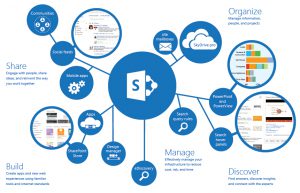 SharePoint empowers teamwork with dynamic and productive team sites for every project team, department, and division. Share files, data, news, and resources. Customize your site to streamline your team's work. Collaborate effortlessly and securely with team members inside and outside your organization, across PCs, Macs, and mobile devices. Take productivity to another level with SharePoint. With SharePoint lists and libraries, Microsoft Flow, and PowerApps, you can create rich digital experiences with forms, workflows, and custom apps for every device. Drive organizational efficiency by sharing common resources and applications on portals. Tell your story with beautiful communication sites. And stay in the know with personalized news in SharePoint home and the SharePoint mobile apps – available for both I-Phone and Android.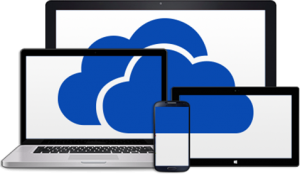 The transition to the cloud can be a nightmare if it's not done properly. Luckily, Microsoft makes this transition seamless with Microsoft OneDrive. Securely store and share files from anywhere. OneDrive offers native desktop, browser and mobile experiences on your devices. Access and make changes that sync automatically in the cloud or sync local copies of files for offline viewing and editing on your PC or Mac. Confidently share your files so other people can access them seamlessly and securely. On the go? Stay connected with all of your files and documents with the OneDrive mobile app. Set device admin rules, view device reports, and remotely wipe devices that are lost or stolen—all from the admin center. You can see which files are being shared and with whom at all times. In-app sharing enables each employee to seamlessly share and set specific access permissions for their files, based on the organization's settings. Over 85% of Fortune 500 Companies trust OneDrive, need I say more?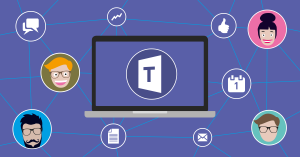 There is no "I" in "team." Except when you're talking about Microsoft Teams. Stay connected with chat, calls, and meetings within your team and in private or small group conversations. Schedule and join online Skype meetings with HD video, VoIP, and dial-in audio conferencing options. Share your files, apps or desktop in online meetings and review the important moments later with transcriptions of recorded content. Have a dedicated phone number for placing and receiving domestic and international phone calls, with advances features including voicemail, transfer, delegation and emergency calling.Give your team or group built-in access to everything they need right in Office 365. Manage all your conversations, files, and tools in one team workspace. How easy is that? Enjoy instant access to SharePoint, OneNote, and Planner. Create and edit documents right in the app. Keep the team in the loop with email integration. Search across people, files, and chats with intelligence from Microsoft Graph.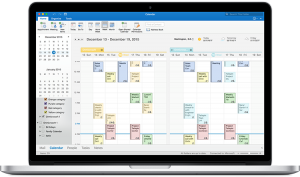 Microsoft Outlook is the email component of Microsoft Office 365. Life is crazy as it is and our crazy schedule doesn't help. Navigating through email after email can be a pain in itself and Microsoft understands that. Stay more connected and productive with a clear, unified view of your email, calendar, contacts, and files. Go beyond the basic email tasks to get more done wherever you are with Outlook on your desktop, smartphone, or tablet. Your calendar these days needs to work hand in hand with your Inbox. Share your calendar, schedule meetings in a heartbeat, and respond to invites with a click. Don't waste your time shuffling through old emails. Outlook provides Keyword & People suggestions as you type and surfaces recent search queries to save time with frequent searches. Upload and share attachments from OneDrive without leaving Outlook. Recipients have access to the latest version within seconds. How do you stay on top of your day?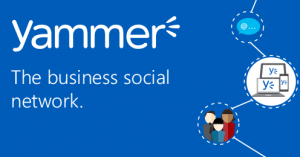 Yammer works hand-in-hand with all Microsoft Office 365 products, integrating apps and platforms you are already familiar with. File sharing has never been easier. If you find yourself working in a group or team setting in your current role/position, Microsoft Yammer should be your new best friend. Work smarter, not harder. Whether you are grabbing documents/files from SharePoint, Delve, or OneDrive, share and discuss directly from Yammer, working seamlessly with all Microsoft Office products. Anywhere. Anytime. Download the Yammer desktop App here. Tap into what is working for your from coast to coast. Search and discover better practices in your network that could benefit your team or department tremendously. Allowing an open exchange of ideas/thoughts that result in better decisions, faster. Let me break Yammer down in the simplest of ways. Yammer is the social network for work. It's the Twitter, Facebook, Instagram, for your network of co-workers. Plus, how else are you going to share that funny cat video with the rest of the office?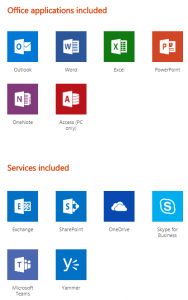 Now, which plan is best for your business? Microsoft offers three different business (and personal) subscriptions for Office 365. The Office 365 Business Premium subscription has everything you need for your business and more. For only $12.50/month per user (one-year annual commitment) the Premium package includes business-class email, Office applications, and that's the tip of the iceberg. All subscriptions do come with a 24/7 phone and web support. Do your research. What services/applications MUST you have? Which ones can you function without? How many people are in your office? How much cloud storage will your business need?
Here at Kinetix Solutions, we value the efficiency of your business. Microsoft Office delivers this promise day in and day out with the services and applications their subscription includes. Please call us today to discuss how our partnership with Microsoft can help propel your business in 2018. Our experienced IT staff is happy to answer any of your questions or concerns. We have developed a system where small and medium-sized business can experience all of the benefits of having an in-house IT department without carrying the expense of one.
For over a decade Kinetix Solutions has been a leading provider of IT Managed Services, Business Intelligence, and Custom Development solutions. Local support teams paired with a 24 X 7 Support Center provide customers a seamless and cost-effective IT solution. This allows companies to focus on their business knowing that their IT infrastructure will be up and running and they will always have access to the latest innovative technologies. Contact Kinetix Solutions via the web at www.kinetixsolutions.com or phone at 855-4-TEK-NOW (855-483-5669) option 2.