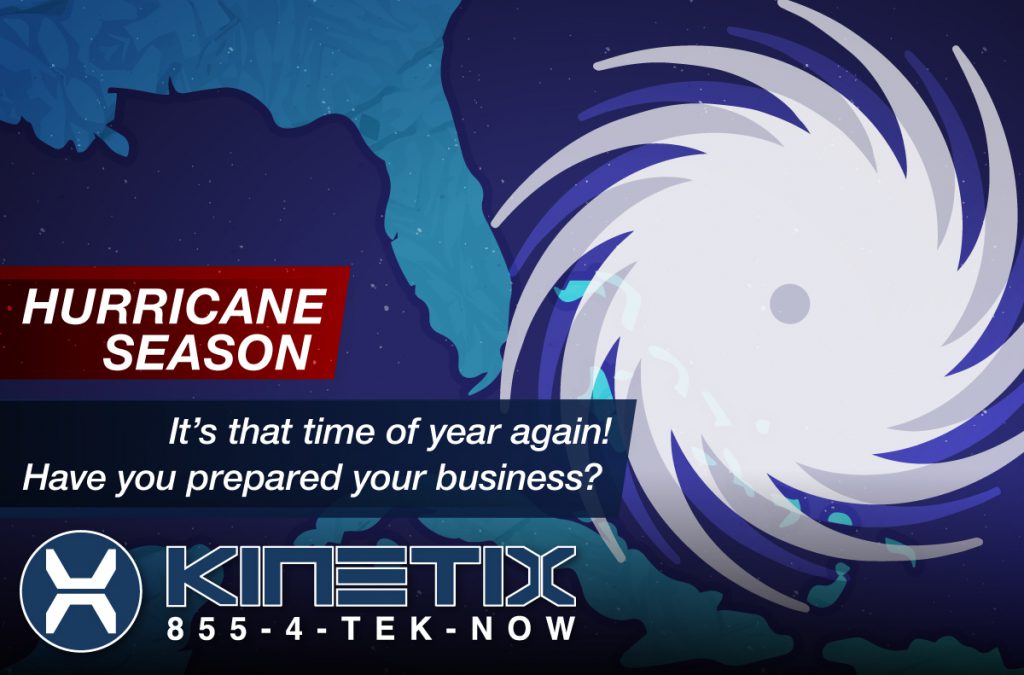 3 Easy Steps to Prepare Your Business For Hurricane Season
Did you know that 40% of small businesses that close due to hurricane damage do not reopen? In order to prevent your business from being another statistic, follow these key steps. It is crucial to begin preparing today! 
Step 1: Property Protection
Invest in and install shutters or plywood in order to protect windows and doors from wind borne-debris.

Conduct a roof evaluation to ensure it can withstand a storm.

Remove any branches or trees adjacent to your building that could potentially fall and damage it your property.

Sandbag any area that is subject to flooding.

Anchor and brace any large furniture (bookcases, shelves, filing cabinets) to wall studs.

Relocate any valuable or fragile possessions.

Secure all utilities including water heaters, gas tanks, and heaters and if necessary, raise them to higher locations to avoid water damage.

Secure electronics such as computers and other office equipment with straps or velcro.

Turn off all the utilities prior to a hurricane making landfall if possible.
Step 2: Protect Important Documents and Information
Designate important contacts to be saved that are crucial to business operations, such as employees, banks, lawyers, accountants, suppliers, etc.

Back-up documents that are not easily produced such as insurance documents, legal contracts, tax returns, and accounting statements to avoid water damage. 

Seal all important documents in waterproof containers onsite.

Save all designated contacts and documents in an alternate and accessible off-site location.
Step 3: Keep A Preparedness Checklist
The following items should be gathered in one location at your place of business. These items will help to protect the safety of all employees should disaster strike unexpectedly. 
Battery operated radio or television

Non-perishable three day food supply for you and your employees

Three day supply of water for you and your employees (one gallon of water per person, per day)

Coolers and containers for water and washing

Blankets, pillows, cots, and chairs

First Aid Kit and first aid manual

Flashlights, batteries, light-sticks

Tool kit (basic tools, gloves, etc.)

Camera and or film for documenting damages

Whistle/signal flare to signal for help

Tarps, plastic bags, duct tape

Cleaning supplies, such as mops, towels, and garbage cans

Smoke alarms and fire extinguishers

Electric generator

Gas for vehicles, generators, and other equipment

Cash, ATM cards, credit cards, and proper identification

Emergency contact information such as the nearest hospital and police, along with:

Life safety issues: 9-1-1

Small Business Administration (SBA): 1-800-359-2227

FEMA Tele-registration hot-line: 1-800-462-9029

Insurance company and agent's contact information
For more information about your business' survival guide, download FEMA's Business Toolkitor FEMA's "Every Business Should Have a Plan" booklet for tips and further examples of steps you can take to prepare your business.
CALL (855-4-TEK-NOW) TODAY FOR A FREE NETWORK ASSESSMENT OF A $2,500 VALUE!
For over 16 years, Kinetix Solutions has been a leading provider of Managed Services, Professional Services, Voice Over IP (VoIP), Internet Solutions, Cloud Hosting, and Custom Development. Local support teams paired with a fully staffed 24/7 Tech Support Center provide customers with a seamless and cost-effective business technology solution. Our approach allows for clients to focus on their core business or product offerings and operate smoothly. In addition to these core offerings, Kinetix Solutions also provides social media management along with access to enterprise and Business Intelligence, Social Media, Search Engine Optimization (SEO), and Web Solutions through our industry leading partnerships. To get more information or schedule a FREE assessment to learn how we can improve your business today, call us at 855-4-TEK-NOW (855.483.5669).