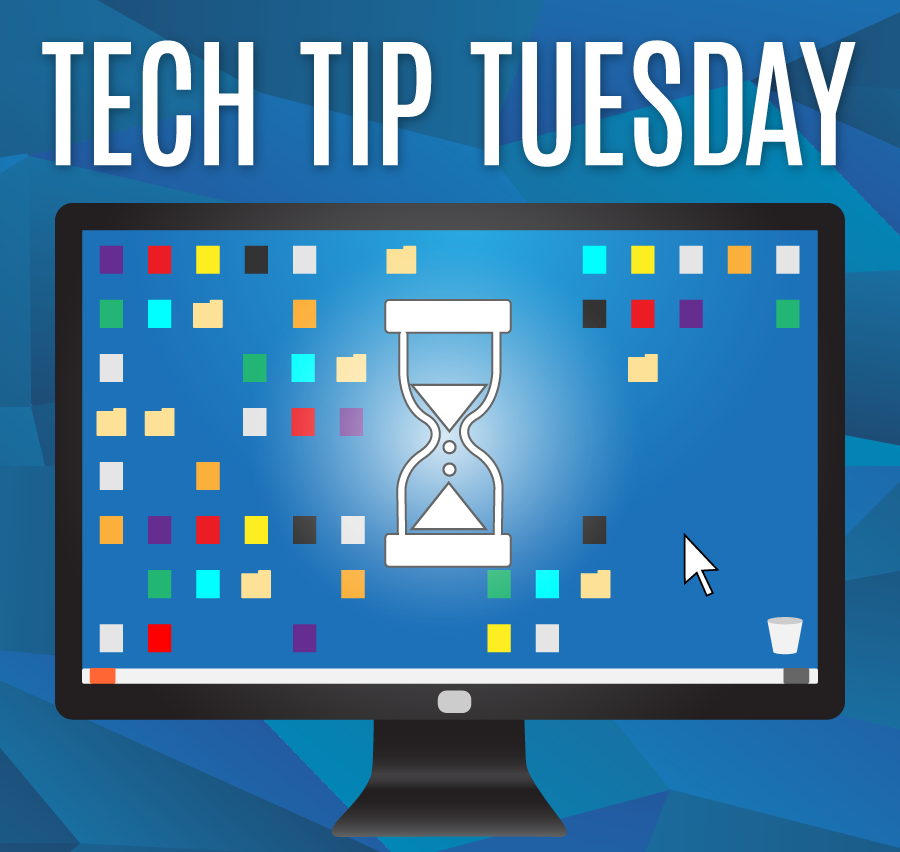 For this week's Tech Tip Tuesday, we've put together a quick list in the spirit of spring cleaning of tips for you to speed up your computer and extend its lifespan:
1. Scan for viruses. If you don't already have a program installed to protect against viruses and malware, contact Kinetix Solutions to get you set up with the proper software. If your virus program does not scan and purge your system automatically, run a scan at least every few weeks.
2. Optimize start-up programs. It's very likely there are several programs that automatically boot up when you start up your computer that you're not using, and there might even be programs that you no longer use that are launching as soon as you boot your computer. For Windows users, we advise you click 'Start', then 'Run' and then type "misconfig". All you want to do is click the 'Startup' tab, and you will see a list of each program that opens when you boot your computer. If anything in there surprises you, then you definitely want to remove it. Just uncheck the box next to any program that you are not currently using or don't want running each time you start your computer and click 'OK'.
3. Uninstall programs. Chances are that you might be bogging down your computer with programs that you either don't really need or never use. Some software comes installed from the factory when you buy a new computer and you'll never touch. Feel free to remove it. Some programs are installed inadvertently to run something else that you downloaded from the internet. Keeping your computer clean is key. For Windows, go to your Control Panel, select 'Programs' and look for those that you aren't using. Uninstall those programs. Simply deleting a program icon from the desktop or dock, or removing it from a folder, does not uninstall it from the system. For Mac, go to your Macintosh HD and select 'Applications' (usually found on the left shortcuts panel of your 'Finder' window. The only way to uninstall a program is to affirmatively do so from the Control Panel for Windows computers or from 'Applications' on Mac computers.
4. Clean up your desktop. Doing this makes it easier to navigate your files and it makes the computer start up faster. A faster way to declutter your desktop vs. manually sorting through each icon yourself on a Windows computer is to start 'Desktop Cleanup Wizard'. You can do so by right-clicking on the desktop, go to 'Sort By' and then 'Run Desktop Cleanup Wizard'. Click 'Next' and select those icons that you want to clean up. While it doesn't delete the files, it will put them into a separate folder. Click Finish. This process moves the shortcut icons so that the remaining files are easy to more or delete. The best practice is to keep your desktop organized so that you can easily find and use your files.
5. Run disk cleanup for Windows. From the Start menu, go to 'My Computer' and then right-click your disk drive and open 'Properties'. Next, select 'Tools' and then 'Disk Cleanup'. The program will continue to analyze your free space and will take some time to safely delete unnecessary files, so be sure to complete this during a break period when you don't need to use the computer for quite a few minutes.
6. Defragment your computer (also for Windows). This is a simple but lengthy step, so we recommend leaving the system defragmenting when you're done using your PC for the day. Defragmenting organizes your PC's inner files. Follow the previous disk cleanup steps mentioned earlier, but from 'Tools', select 'Disk Defragmenter'. Mac computers do not store its files in the same manner as Windows, thus does not need defragmenting.
7. Keep the hardware clean. The actual tower should remain dust-free as dust bunnies can actually start a fire. It also invites insects to nest inside and damage the internal mechanics of the system. It also causes overheating of your system, slowing down the computer further.
For over 16 years, Kinetix Solutions has been a leading provider of Managed Services, Professional Services, Voice Over IP (VoIP), Internet Solutions, Cloud Hosting, and Custom Development. Local support teams paired with a fully staffed 24/7 Tech Support Center provide customers with a seamless and cost-effective business technology solution. Our approach allows for clients to focus on their core business or product offerings and operate smoothly. In addition to these core offerings, Kinetix Solutions also provides social media management along with access to enterprise and Business Intelligence, Social Media, Search Engine Optimization (SEO), and Web Solutions through our industry leading partnerships. To get more information or schedule a FREE assessment to learn how we can improve your business today, call us at 855-4-TEK-NOW (855.483.5669).