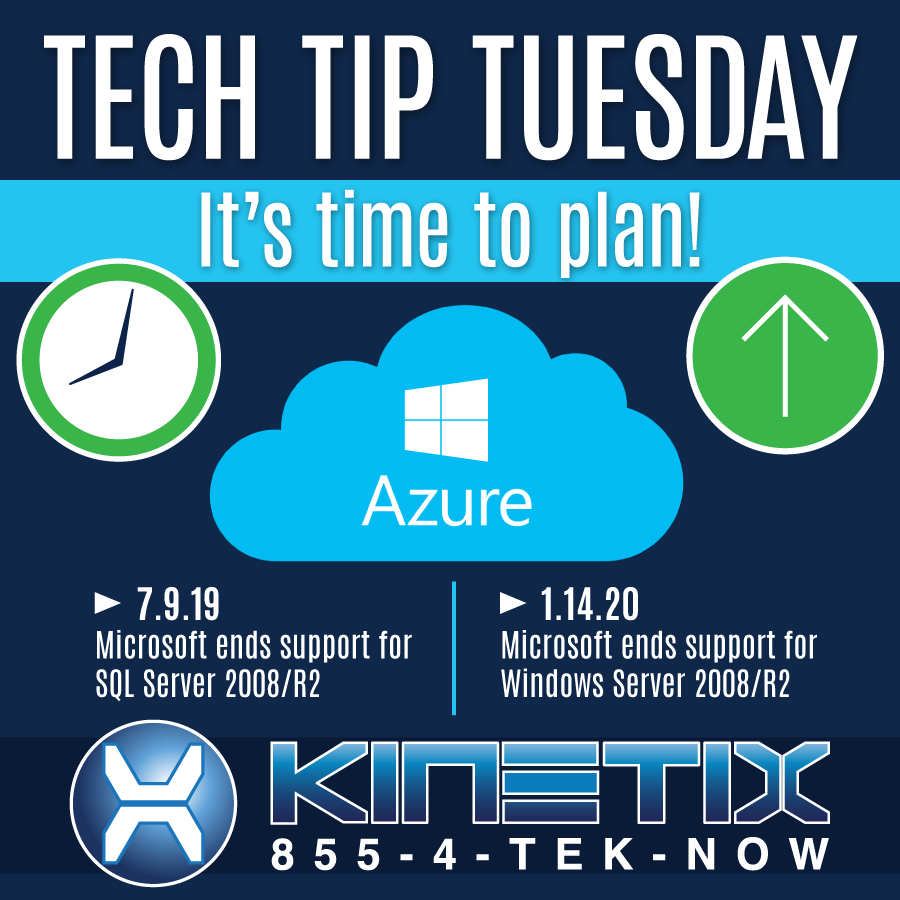 TechTipTuesday: On July 9, 2019, Microsoft will end support for SQL Server 2008/R2 & Windows Server 08/R2 will become EOS January 14, 2020. That means the end of regular security updates & support for those servers is near. Don't let your business' infrastructure & applications go unprotected. Kinetix Solutions is here to help you migrate & upgrade your server(s) to the current version(s) for increased security & performance.
What exactly does this entail? Well, if you have not been migrated to Azure before or if you have not yet upgraded to the latest version of Windows Servers, you are in NEED of a transition plan for when these licenses become "End of Support" (EOS) by Microsoft. You can also take advantage of Microsoft's extended 3-year Security Updates for 08 VMs that are moved to the Cloud. This will keep you protected through our monthly services. Failure to update to the latest versions of software can be detrimental to your business & applications! Upgrading to Azure will improve your business' security, cost efficiency, compliance, & much more!
Contact us today about your transition to Azure with our cloud services! We'll gladly provide you with further information about your current Windows server & SQLServer setup to determine your migration plan.
Cloud computing is the FUTURE!
For over 16 years, Kinetix Solutions has been a leading provider of Managed Services, Professional Services, Voice Over IP (VoIP), Internet Solutions, Cloud Hosting, and Custom Development. Local support teams paired with a fully staffed 24/7 Tech Support Center provide customers with a seamless and cost-effective business technology solution. Our approach allows for clients to focus on their core business or product offerings and operate smoothly. In addition to these core offerings, Kinetix Solutions also provides social media management along with access to enterprise and Business Intelligence, Social Media, Search Engine Optimization (SEO), and Web Solutions through our industry leading partnerships. To get more information or schedule a FREE assessment to learn how we can improve your business today, call us at 855-4-TEK-NOW (855.483.5669).